Tottenham Hotspur FC Home Shirt 2010/2011
Brand : Multi Sport
Sponsor : AUTONOMY
Event : Barclays Premier League 2010/2011 / English Premier League 2010/2011



Tottenham Hotspur FC Home Shirt 2010/2011
Brand : Multi Sport
Sponsor : AUTONOMY
Event : Barclays Premier League 2010/2011 / English Premier League 2010/2011



Tottenham Hotspur FC Home Shirt 2010/2011
Brand : Multi Sport
Name : 3 BALE
Sponsor : AUTONOMY
Event : Barclays Premier League 2010/2011 / English Premier League 2010/2011

Gareth Frank Bale (born 16 July 1989) is a Welsh footballer who plays for English Premier League club Tottenham Hotspur and the Wales national team. Bale began his professional career with Southampton in 2005 and was transferred to Tottenham two years later. Since exploding into the Tottenham first team, Bale has earned rave reviews and is now widely considered one of the best young talents in world football.
On 21 August, Bale scored twice in a 2–1 win at Stoke City, the second of which was a head-high volley into the top right hand corner of the goal. On 25 August, Bale set up all four goals to help Spurs overcome Young Boys 4–0 (6–3 agg.) in a Champions League play-off at White Hart Lane. Although Assou-Ekotto had already returned from injury, Bale continued his good form and cemented his place in the starting eleven, moving forward to left wing to accommodate Assou-Ekotto at left back. On 29 September 2010, Bale scored his first Champions League goal for Tottenham in a 4–1 home win against Dutch champions FC Twente in their second game of the group stages. In recognition, he was named Welsh Player of the Year by the FAW. On 20 October, Bale scored his first senior hat trick against European champions Internazionale at the San Siro in the Champions League. Tottenham lost the match 4–3, having been 4–0 down inside the first 35 minutes and playing with ten men for over 80 minutes of the match after goalkeeper Heurelho Gomes had been sent off in the eighth minute for a professional foul on Inter's Jonathan Biabiany. In the return match at White Hart Lane on 2 November, Bale provided a man of the match performance, setting up goals for Peter Crouch and Roman Pavlyuchenko to earn Spurs a memorable 3–1 win.
On 4 November, Bale stated that he intended to remain at Tottenham for the remainder of his recently-signed four-year contract, despite reported interest from other clubs. On 19 March 2011, Tottenham announced Bale had extended his stay at the club until 2015.
On 17 April 2011, Bale was honoured with the PFA Player of the Year award, as voted for by his peers.

Tottenham Hotspur FC Home Shirt 2010/2011
Brand : Multi Sport
Name : 9 PAVLYUCHENKO
Sponsor : AUTONOMY
Event : Barclays Premier League 2010/2011 / English Premier League 2010/2011

Roman Anatolyevich Pavlyuchenko (Russian: Роман Анатольевич Павлюченко, Roman Anatoljevič Pavľučenko; born 15 December 1981 in Mostovskoy) is a footballer who currently plays as a centre forward for English Premier League club Tottenham Hotspur and for the Russian national team.
On 17 August, he scored a vital away goal against BSC Young Boys in the Champions League play-off round first leg. Tottenham were losing 3–0 until a Sébastien Bassong header pulled it back to 3–1 and Pavlyuchenko later made it 3–2. In the second leg, Spurs won 4–0 at home, meaning that they would progress into the Champions League group stages. Pavlyuchenko's promising form in this tournament continued with two second-half penalty strikes against FC Twente in Tottenham's second group match, followed by a decisive third goal as Spurs beat cup holders Inter Milan on Matchday 4. On 4 November, Pavlyuchenko scored with a volley in a 4–2 defeat to Bolton Wanderers. The following weekend, he scored again in a home win against Blackburn Rovers. On 6 March 2011, he scored a goal against Wolves. He scored the first goal against West Bromwich Albion on 2–2 draw on April. Pavlyuchenko scored a goal in a London derby against Chelsea in a 1–1 draw. On 22 May, the final day of the season, Pavlyuchenko scored two stunning long-range goals in a 2–1 win against Birmingham City to ensure that Tottenham finished fifth in the Premier League and qualified for the 2011–12 UEFA Europa League. The win also relegated Birmingham to the Championship. The Russian's Tottenham career up until this point had consisted of constantly being down the pecking order despite in the 2009-10 season having a better goals per minute ratio than all of his fellow strike partners in Jermain Defoe, Peter Crouch and Robbie Keane. The same went for the 2010-11 season when in March Pavlyuchenko had a minutes per goals ratio of 151 compared to competitors Jermain Defoe who had 208, Peter Crouch had 243 and Rafael van der Vaart had 161.

Tottenham Hotspur FC Home Shirt 2010/2011
Brand : Multi Sport
Name : 11 VAN DER VAART
Sponsor : AUTONOMY
Event : Barclays Premier League 2010/2011 / English Premier League 2010/2011

Rafael Ferdinand van der Vaart (Dutch pronunciation: [ˈraːfa.ɛl vɑn dɛr ˈvaːrt]) (born 11 February 1983) is a Dutch footballer who plays for English Premier League club Tottenham Hotspur and the Dutch national team. His preferred position is as an attacking midfielder; he can, however, also operate in other positions, such as second striker.
On 31 August 2010, two hours before the transfer window closed, Tottenham Hotspur made an offer of £8 million for Van der Vaart. According to Spurs manager Harry Redknapp, an £18 million transfer to Bayern Munich had collapsed the day before and Van der Vaart had suddenly become much cheaper, although such a price reduction was later denied by Real Madrid. Due to problems with computer servers used in the transaction between Tottenham and Real Madrid, preventing the necessary paperwork from being completed, Spurs requested special dispensation from the Premier League to allow the transfer to proceed. The Premier League confirmed on 1 September that the transfer had been permitted after they gave Tottenham special dispensation due to 'technical problems'. He signed a four-year contract at White Hart Lane. It was announced that Van der Vaart would wear the number 11 shirt for Spurs. Van der Vaart later denied speculation that he had been a failure at Real Madrid, claiming that he always gave his best over the last few years for both club and country, and that he wanted to show his quality for his new club.
Van der Vaart made his Premier League debut for Spurs in a 1–1 draw against West Bromwich Albion on 11 September 2010, and his Champions League bow for the club three days later against Werder Bremen, providing an assist for Peter Crouch in a 2–2 draw. Van der Vaart scored his first Premier League goal from the penalty spot in a 3–1 win against Wolverhampton Wanderers on 18 September 2010. After starting his Spurs career by scoring three goals in four Premier League matches, and with a goal and an assist in two Champions League matches, Van der Vaart was named Goal.com World Player of the Week on 4 October 2010. He was later named Premier League Player of the Month for October. A hamstring injury kept Van der Vaart out of action for much of December, but he returned to the Tottenham side on Boxing Day, scoring both goals in a 2–1 away win over Aston Villa. On April 20, van der Vaart revived Tottenham's Champions League ambitions by scoring twice to hold North London rivals Arsenal to a 3–3 draw at White Hart Lane. After losing to Manchester City and being knocked out of the Champions League race, Spurs traveled to Anfield. Van der Vaart scored from 25 yards out in a 2–0 win that put Tottenham in position to secure qualification for the Europa League. He ended the season as Spurs' top scorer in the Premier League, scoring 13 goals – nearly a quarter of Tottenham's total – whilst also providing the most assists, with 8.


Tottenham Hotspur FC Home Shirt 2010/2011
Brand : Seven Stars
Sponsor : AUTONOMY
Event : Barclays Premier League 2010/2011 / English Premier League 2010/2011



Tottenham Hotspur FC Home Shirt 2010/2011
Brand : Seven Stars
Sponsor : INVESTEC
Event : UEFA Champions League 2010/2011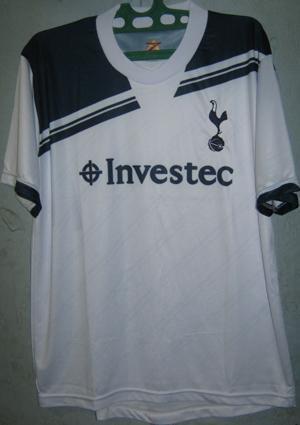 Tottenham Hotspur FC Away Shirt 2010/2011
Brand : Seven Stars
Sponsor : AUTONOMY
Event : Barclays Premier League 2010/2011 / English Premier League 2010/2011



Tottenham Hotspur FC Third Shirt 2010/2011
Brand : Athena Sport
Sponsor : AUTONOMY
Event : Barclays Premier League 2010/2011 / English Premier League 2010/2011



Tottenham Hotspur FC Home Short 2010/2011
Celana Tottenham Hotspur FC Home 2010/2011
Brand : Auri Sport
Event : Barclays Premier League 2010/2011 / English Premier League 2010/2011 & UEFA Champions League 2010/2011



Tottenham Hotspur FC Home Short 2010/2011
Celana Tottenham Hotspur FC Home 2010/2011
Brand : Auri Sport
Event : Barclays Premier League 2010/2011 / English Premier League 2010/2011 & UEFA Champions League 2010/2011



Tottenham Hotspur FC Home / Away Short 2010/2011
Celana Tottenham Hotspur FC Home / Away 2010/2011
Brand : Auri Sport
Event : Barclays Premier League 2010/2011 / English Premier League 2010/2011 & UEFA Champions League 2010/2011



Tottenham Hotspur FC Home / Away Short 2010/2011
Celana Tottenham Hotspur FC Home / Away 2010/2011
Brand : Auri Sport
Event : Barclays Premier League 2010/2011 / English Premier League 2010/2011 & UEFA Champions League 2010/2011



Tottenham Hotspur FC Home / Away Short 2010/2011
Celana Tottenham Hotspur FC Home / Away 2010/2011
Brand : Auri Sport
Event : Barclays Premier League 2010/2011 / English Premier League 2010/2011 & UEFA Champions League 2010/2011



Tottenham Hotspur FC Home / Away Short 2010/2011
Celana Tottenham Hotspur FC Home / Away 2010/2011
Brand : Auri Sport
Event : Barclays Premier League 2010/2011 / English Premier League 2010/2011 & UEFA Champions League 2010/2011



Tottenham Hotspur FC Home / Away Short 2010/2011
Celana Tottenham Hotspur FC Home / Away 2010/2011
Brand : Auri Sport
Event : Barclays Premier League 2010/2011 / English Premier League 2010/2011 & UEFA Champions League 2010/2011



Tottenham Hotspur FC Third Short 2010/2011
Celana Tottenham Hotspur FC Third 2010/2011
Brand : Auri Sport
Event : Barclays Premier League 2010/2011 / English Premier League 2010/2011