Liverpool FC Home Kit 2009/2010 - Kid
Brand : Seven Stars
Name : 9 TORRES
Sponsor : CARLSBERG
Event : Barclays Premier League 2009/2010 / English Premier League 2009/2010

Fernando José Torres Sanz (born 20 March 1984), nicknamed El Niño (The Kid in Spanish), is a Spanish footballer who plays for Liverpool and the Spain national team as a striker.
Following the end of the season, he agreed a new contract with Liverpool, which he signed on 14 August. By signing this contract, Liverpool increased his wage to £110,000 a week and included the option of a one-year extension after its expiry in 2013. Torres scored two goals in a 3–2 win over West Ham United on 19 September 2009, a result that took Liverpool to third in the Premier League A week later he scored his first hat-trick of the 2009–10 Premier League season in a 6–1 victory over Hull City at Anfield. He was named Premier League Player of the Month for September, after scoring five goals during the month and becoming the Premier League's top goalscorer. On 25 October, he scored the first goal in a 2–0 victory for Liverpool over Manchester United, after which Benítez praised Torres' performance, saying "We were waiting for that final pass. When it came we knew he would score." Torres was named in the FIFPro World XI for the second successive season in December. His stoppage-time winning goal against Aston Villa on 29 December 2009 made him the fastest Liverpool player ever to score 50 league goals. He was substituted on 65 minutes in a 1–1 draw with Birmingham City on 4 April 2010, which Benítez justified by saying Torres was "exhausted". It was announced on 18 April that Torres would miss the rest of the season to undergo knee surgery. This meant that Torres finished the season with 22 goals in 32 games in all competitions, finishing as Liverpool's top scorer for the second time.

Liverpool FC Away Shirt 2009/2010 - Kid
Brand : Seven Stars
Name : 8 GERRARD
Sponsor : CARLSBERG
Event : Barclays Premier League 2009/2010 / English Premier League 2009/2010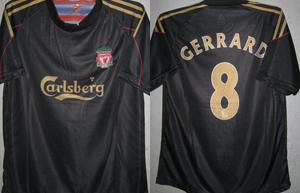 Steven George Gerrard MBE (born 30 May 1980), is an English professional association football player who plays for and captains English Premier League club Liverpool.
He made his 100th appearance in European club competition for Liverpool on 10 March 2009 against Real Madrid and scored twice in a 4–0 win. Four days after the impressive victory over Real, Gerrard would score at Old Trafford for the first time from the penalty spot, putting Liverpool ahead on their way to a 4–1 victory over Manchester United. Following these results, three-time FIFA World Player of the Year Zinedine Zidane hailed the Liverpool skipper, saying "Is he the best in the world? He might not get the attention of Messi and Ronaldo but yes, I think he might be." On 22 March 2009, Gerrard scored his first ever hat-trick in the Premier League, against Aston Villa, in a 5–0 victory. On 13 May 2009, Gerrard was named as the 2009 Football Writers' Association Footballer of the Year, becoming the first Liverpool player to win the award in nineteen years. Gerrard had pipped Manchester United duo Ryan Giggs and Wayne Rooney in the poll voted for by journalists, beating Ryan Giggs by just 10 votes. Upon receiving the award, he was quoted as saying "I'm delighted but I'm a little bit surprised," he commented. "When you look at the quality of the players there are in this league, it's a great privilege to win this kind of award." He ended the 2009-10 season with a total of 12 goals and 9 assists from 46 matches.

Liverpool FC Home Shirt 2009/2010
Brand : Seven Stars
Sponsor : CARLSBERG
Event : Barclays Premier League 2009/2010 / English Premier League 2009/2010



Liverpool FC Away Shirt 2009/2010
Brand : Seven Stars
Sponsor : CARLSBERG
Event : Barclays Premier League 2009/2010 / English Premier League 2009/2010



Liverpool FC Third Shirt 2009/2010
Brand : Seven Stars
Sponsor : CARLSBERG
Event : Barclays Premier League 2009/2010 / English Premier League 2009/2010