FC Internazionale Milano Home Kit 2009/2010 - Kid
Brand : Multi Sport
Name : 9 ETO'O
Sponsor : PIRELLI
Event : Lega Calcio Serie A 2009/2010 / Lega Nazionale Professionisti Serie A 2009/2010

Samuel Eto'o Fils (French pronunciation: [samɥɛl eto fis]) (born 10 March 1981) is a Cameroonian professional footballer.

After Maxwell completed the transfer from Internazionale,] Joan Laporta confirmed that there was an agreement in principle between Barcelona and Internazionale for Zlatan Ibrahimović to join the club in exchange for Eto'o and €46 million. After Ibrahimović agreed terms with Barcelona, the club announced Eto'o would travel to Milan for his medical to complete the transfer.

On 27 July 2009, Eto'o passed his medical and signed for five years with Inter.On his first press-conference in Milan, he declared that he was where he wanted to be and refused to compare himself to Ibrahimović saying, "I'm Samuel Eto'o and I don't want to compare myself to anyone. I believe the victories I have earned up to now can contribute to giving the right value to my name." On 8 August, Eto'o scored his first competitive goal for Inter, in the 2009 Supercoppa Italiana. Two weeks later, Eto'o scored from the penalty spot against Bari in his first Serie A match. In the following match, the Milan Derby, Eto'o won Inter a penalty, after being brought down by Gennaro Gattuso in the box. Gattuso was yellow carded and eventually sent off. Eto'o scored again on 13 September against Parma, his first goal from open play in a Serie A match.

At the end of September 2009, Eto'o demanded almost £2.75 million from Barcelona after his transfer to Inter. The amount represented 15% of the US$29 million (£17.7 million) fee which Inter paid Barcelona in July 2009. The demand was based on a Spanish rule that a player should get 15% of the amount of his transfer to another Spanish club. If the parties failed to reach a solution, the matter could go to court.

Eto'o scored two goals during a thrilling win over Palermo which ended 5–3, with a brace also being scored by Mario Balotelli. Eto'o also scored in the Champions League Round of 16 against Chelsea, in the second leg, on 16 March 2010, which allowed Inter to progress to the quarter-finals. On 5 May, Eto'o and his teammates helped Inter to lift the Italian Cup after defeating Roma 1–0 at the Stadio Olimpico. Inter's goal was scored by Argentina's Diego Milito.

On 22 May 2010, Eto'o played in the third Champions League final of his career, and with Internazionale's triumph over Bayern Munich, he became the only player to win the treble in consecutive seasons.
FC Internazionale Milano Home Shirt 2009/2010
Brand : Liga Sport
Sponsor : PIRELLI
Event : Lega Calcio Serie A 2009/2010 / Lega Nazionale Professionisti Serie A 2009/2010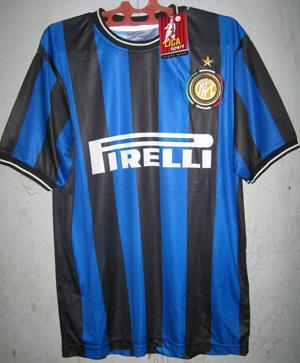 FC Internazionale Milano Home Shirt 2009/2010
Brand : Seven Stars
Sponsor : PIRELLI
Event : Lega Calcio Serie A 2009/2010 / Lega Nazionale Professionisti Serie A 2009/2010



FC Internazionale Milano Away Shirt 2009/2010
Brand : Seven Stars
Sponsor : PIRELLI
Event : Lega Calcio Serie A 2009/2010 / Lega Nazionale Professionisti Serie A 2009/2010